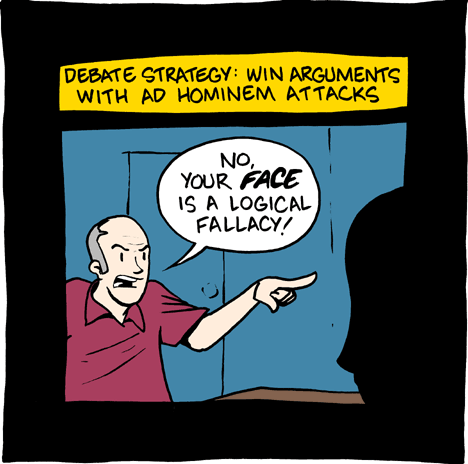 by Cylinsier
Also known as the ad hominem attack strategy. Typically employed by those without the ability to win an argument based on the basis of their dialog and supporting evidence alone. It is sometimes used reflexively by morons or Republicans when they are cornered on an issue and feel the need to lash out to pamper their bruised ego. This should not be taken as a partisan attack; there are many democrats who fit into the "moron" category.
So let's examine the absurdity of the ad hominem attack, shall we? A
recent op-ed by Whole Foods CEO John Mackey
revealed that he was vehemently against any type of government health plan. Since Whole Foods attracts a lot of liberal shoppers, the result of his sharing this opinion is a massive boycott of the store. Okay, maybe not massive. But noticeable. Many a former shopper also went to the Whole Foods website and posted on their displeasure on the forums. But Whole Foods has also garnered some support; one little gem reads as follows: "[I will] support this man who understands the real needs of this country and it isn't paying for doctors for a bunch of lazy smelly hippies who need a bath."
Not to be outdone, bloated windbag and creature of the night Rush Limbaugh has referred to Obama's plan as a "Nazi plan," apparently not able to distinguish the difference between socialism and fascism. I know, its hard because socialism was in the name of Hitler's party, but Fair and Balanced is also the slogan of Fox News so I would have thought since he probably watches it exclusively that he would know the difference between actions and words. Limbaugh parroters have appeared in short order to further this message of hate. One in the previously-mentioned-on-this-blog Barney Frank confrontation, and another somewhat more offensive instance in
this video
(thanks for the source, ellipses).
So we have smelly hippies pushing Nazi plans down our throats? Sounds logical and not at all the result of an uncontrolled emotional response. But wait! Surely the other side has its wackos too? Of course. We have liberals claiming that the conservative backlash is nothing more than a carefully manufactured lobbying effort by private insurers and pharmaceutical companies out to lose a buck. There is nothing to suggest that this is any more of a logical reaction than the above nonsense. I mean, the only thing that could be trusted at this point is an admission of guilt from someone within the system itself. Oh,
look what I found
. Wendell Potter spent twenty years as a PR guy for CIGNA. Follow that link and see what he has to say for yourself.
I'm not here to try and make an argument for health care reform or a public option; I feel like that argument makes itself for one thing and for another...if you take a second to look around here you'll see we've made it about ten times. What I'm asking in this blog post is why can't the conservative opposition come up with a valid argument against it? We have many false claims made about the plans that have been proven as such. We have an inherent distrust of politicians which is understandable based on the previous administration's track record, and a much less understandable inherent trust of private insurers who all but laugh in your face as they steal your wallet and sleep with your wife. We have politicians in congress who are giddy about doing whatever it takes to piss off the liberal majority without caring about the future of their own party or the good of the nation. We have said democratic majority who can't seem to sell water to a Bedouin, or even give it away.
And we have the point of this post: a complete lack of logical counterargument against fixing a system that is clearly broken and an unending campaign of attacking the debater instead of the debate. So I ask the conservative opposition one thing. A question which fellow blogger ellipses has been asking repeatedly in our comments section here. A question to which I have yet to hear a real answer. And that question is, "What does a private insurer bring to the table? What value do they provide that cannot be found via other means without them?" I'll appreciate any response to this question that is logical, supported by objective evidence and free of any needless and distracting attacks which serve only to expose the blatant lack of a viable defense against this argument.
Sphere: Related Content