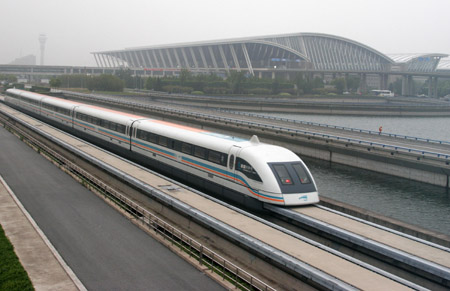 by Cylinsier
Remember that massive stimulus bill that a lot of people are saying isn't working? Unlike malcontents (Republicans) in this country who like to cry in their caviar about everything since last November, I've been trying to keep up with
why
the stimulus hasn't saved us yet. The main reason is not because it "blows ass," as Mitch McConnell no doubt claims behind closed doors, nor is it because the legislation is "commie horseshit," another imagined but probably accurate quote, this time from John Boehner. Its because a lot of it hasn't been spent. So, I've become curious about what this money sitting around is going to be used for in the future, and one of the most exciting projects is maglev rails!
The one pictured above is in Shanghai. They've had them in Japan for ages too, kind of like how they've had cell phones and computers and
giant fucking robots
for years. I haven't been to Japan recently (or ever), but if history is any indication, the whole country probably floats a few miles above the surface of the earth and runs on cold fusion at this point. Hopefully they'll share flying cars and teleportation with us soon, but in the mean time, maglev is where its at.
So what is maglev? Its a train. On magnets. So it floats. Basic physics should already be telling you the potential benefits. The trains are far more efficient and faster due to the lack of surface to surface friction since the trains don't touch anything (but do still compete with air drag). Whereas a normal train maxes out at about 100 mph, maglevs hit around 300 mph. The ones in Japan can go over 500 mph. They are pretty quiet and there is potential for environmental improvements over traditional rail and other modes of transport (depending on what is used to generate the electricity needed to generate the magnetic field as well as to propel the train).
Train travel in general is pretty nice in my opinion. Better than air travel and that's not just because I hate flying. There compartment typically has more space. Security and baggage handling is easier, at least for the time being. Wait times are shorter. But the big drawback has always been time; traditional rail is just too slow. But maglevs can compete with airline travel for time efficiency. A direct rail line from New York to Chicago, for example, with maglev technology might be faster than a flight if wait times for airport delays, security and possible layovers are taken into account.
The budget for maglevs is $8 billion from the stimulus package. That's a lot of jobs for construction. And the technology is proven in other countries already; there are countless people who hate the hassle of air travel but can't take the time to go by rail that would be instant customers when this mode of transport becomes available. Its really a situation where everybody wins. I for one am looking forward to having this travel alternative available to me for trips in the future.
For those interested, current areas under consideration for maglev construction are LA, Seattle, Vegas, DC, Baltimore, Pittsburgh, San Diego and Atlanta. For the most part, these are localized projects and not part of any plan to link these cities to each other (with the exception of Baltimore and DC, where travel between the two cities would be part of the plan). Also, the stimulus money is being potentially allocated to Pittsburgh for their maglev project, but I do not know if any of the other projects will receive stimulus funding. Actual cross country maglev travel is still quite a ways off. But I'm still looking forward to the day I can sit on a fast quiet train that'll get me from Pittsburgh to DC in two hours or less!
Sphere: Related Content